| | | |
| --- | --- | --- |
| | Dpad gives us her recap of Naughty Dog's AMC event. | |
Hey everyone! D-Pad Daisy here bringing you a recap on the Uncharted 3: Play it First in 3D event at the AMC Century City 15. Before I start, my biggest thanks to Naughty Dog, through their Twitter page, for hooking me up with a premium pass for the event!
As many of you already know, Naughty Dog, Sony, and AMC theaters have teamed up to bring fans the ultimate Uncharted 3 experience by playing the game in 3D on the big screen in select theaters. The event is $25 for a regular pass but $60 entitles you the same experience plus an early copy of the game shipped to your house a week before its public release. Definitely an awesome buy! The 3-day event started Tuesday October 18th and will go through Thursday October 20th. So, you still have one more night to attend!
The event started with lines to pick up your passes so be sure to get there early! There will also be another line for those premium pass holders to register your information for your free copy of the game. Also, you will be given the option of participating in the multiplayer tournament or getting a free swag bag. Luckily, the lines weren't crazy long and got through quickly. But, the real treat was seeing an awesome, sexy pair of cosplayers who went as Drake and Sully. Picture fun time!
Unfortunately, Sony and Naughty Dog made it pretty clear no photos or videos inside the theater once the event started. I was seriously tempted but, out of respect, held back. But trust me, it was really, really,
really
hard. Eric Monacelli, Naughty Dog's Community Strategist, started the event. We were treated with movie-sized trailers, new and old, reformatted for 3D.
And then the real fan-pleaser was seeing the main cast and crew for the game in person! Voice actors Nolan North, Emily Rose, Claudia Black (<3), Robin Atkin Downes, and T.J. Ramini were in attendance, as well as the creative director for the series, Amy Hennig, cutscene and voice director Gordon Hunt, and music composer Greg Edmonson. They were there answering fan questions from the audience while entertaining us with their sense of humor. I loved the shirt that Emily was wearing and Claudia was looking super cute.
One fan asked about the Uncharted Golden Abyss game exclusive for the PS Vita. His question was if the game will ever been seen on the Playstation 3 in the future. Unfortunately, that question couldn't be answered due to Naughty Dog is only overseeing the project. Sony Bend Studio holds all the answers and I was itching for that answer myself. I, for one, am upset an Uncharted game is on the Vita. I could seriously go on and rant, but let's not spoil the moment.
But we were given a look, in 3D, into the Golden Abyss trailer narrated by John Garvin, writer and director. Using the touch screen on the Vita, Drake will now carry a machete and cut his way through his environment. And using the Sixaxis motion sensing system, you will also need to balance Drake as he makes his way across balancing beams. If you haven't seen this trailer yet, check it out on
Youtube
. We were also reminded of the new Fortune Hunters' Club, which is DLC program that will provide you with the first four multiplayer map packs, first three multiplayer skin packs, and theme for your XMB menu. This pretty package is set for $24.99 and available for preorder at the PlayStation Store and select retailers.
After the Q&A, it was time for the multiplayer tournament! There were stations set at the bottom of the pit and one game will be viewed on the movie screen in 3D. It's a team of five and don't even think about sticking with your friends. Sony will split you up randomly with strangers. Each team will have a chance to win the Collector's Edition of Uncharted 3 at the end of the tournament. And it was a blast, especially seeing the match up on the big screen. The 3D really gives the game an extra push with its already impressive graphics. In case you're wondering, my team lost but it's still a lot of fun.
During intermissions, there were raffle giveaways, and man, were there a lot of giveaways! Prizes included a (somehow) Japan exclusive PS3 controller, an Uncharted face plate for your system, Penny Arcade posters signed by the cast and crew, a signed copy of the novel
Uncharted: The Fourth Labyrinth
by the author, a free signed preorder copy of Nolan North's book
Drake's Journal
, and a PS3 surround sound headset. Also, there was a simple survey to fill out at the end of the event and it will enter you a chance to win a new Sony 3D screen to enjoy your 3D games at home. Very sweet!
The overall experience was almost four hours long. Playing the game in 3D, getting the game a week early, great raffles, entertaining tournament, exclusive trailers, and more make this event more than well worth the ticket price. I was very satisfied with the whole thing and I will be standing by my door all week for the delivery guy. The 3D is a great add-on but this game still stands strong without it. Naughty Dog truly took great care in creating such a visual masterpiece.
Uncharted 3 Drake's Deception will be released on November 1st, 2011 exclusive to the Sony Playstation 3 in both a standard and Collector's Edition. Uncharted is
THE
reason to own a PS3. If you haven't yet, go do yourself a favor and buy the first two games in a convenient duo pack that's available now. Then get this game and fall in love with Nathan Drake for the third time.
Oh, and a small FYI, this event will require the use of 3D glasses, so for those who get headaches or can't see well, this is something you may want to think twice about.

Follow Naughty Dog on Twitter!
For more details on the event visit AMC Uncharted 3!
You can now find videos on the event on Youtube!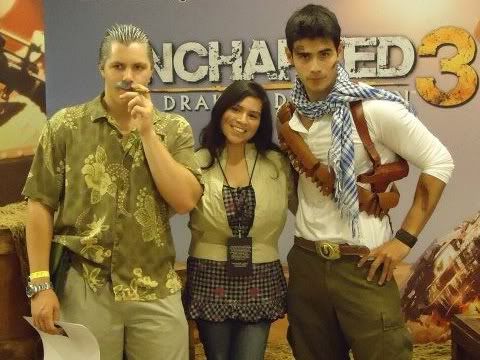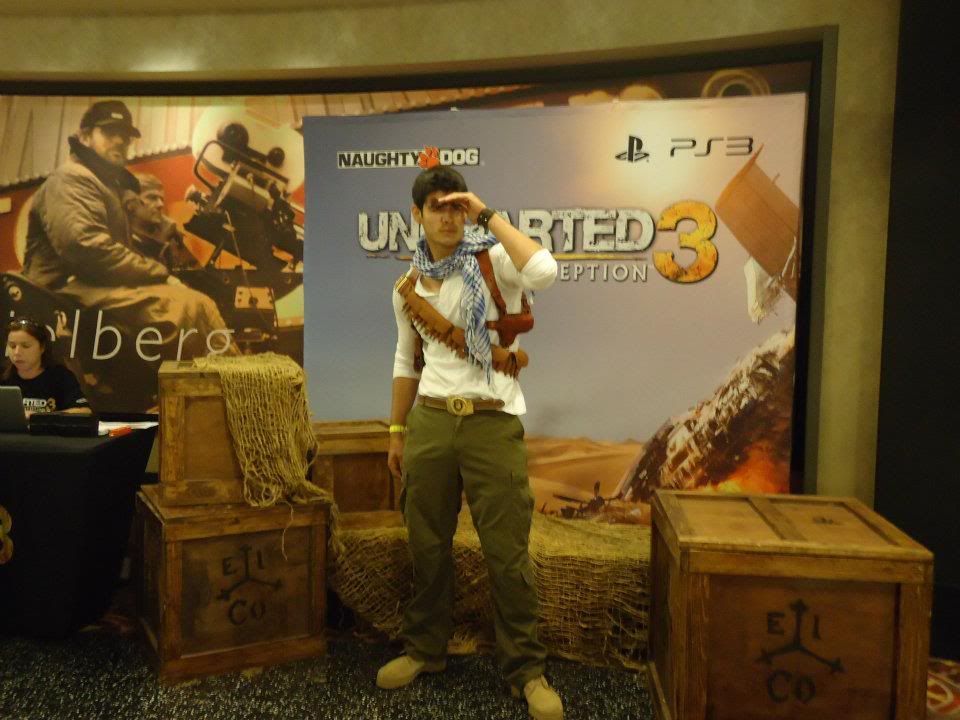 About the Author
Daisy is the artist and 3DS expert of latinogamer.com. A former GameStop employee and student at Glendale Community College, she currently resides in Los Angeles. She is a student flute player and loves the work of the great video games composers such as Nobuo Uematsu and Koji Kondo.


---

Daisy es el artista y experto sobre el 3DS de latinogamer.com. Anteriormente trabajaba en GameStop y estudiaba en el colegio de comunidad en Glendale. Estudia ser flautista y ama la musica de los gran compositores de videojuegos como Nobuo Uematsu y Koji Kondo.